the cookies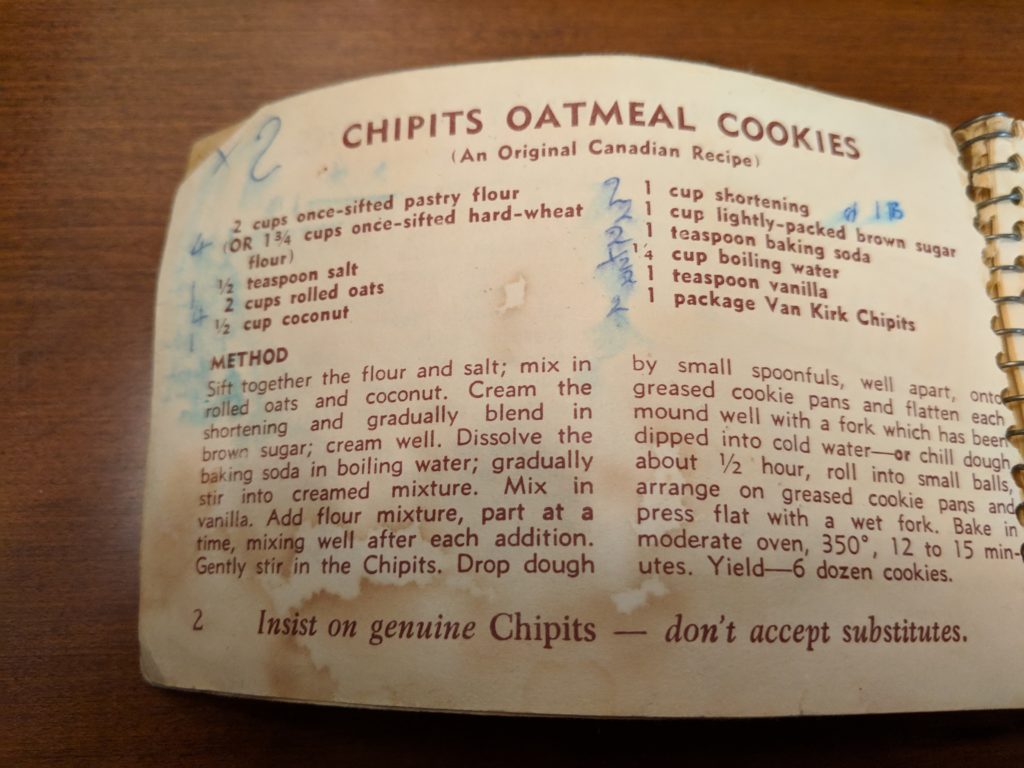 I don't think this recipe exists on the internet, and it came up at work, so here it is. This is an adjustment by my Mom of, we are pretty sure, the above Chipits recipe.
1 cup margarine / butter
1 cup brown sugar

1 and 3/4 cups flour
1 and 1/2 cups oats
1/2 cup oat bran
1/2 cup dried coconut
1 tsp baking soda
1/2 tsp salt

1/2 cup water
1 tsp vanilla

1/2 cup raisins
1/2 cup chocolate chips
Preheat oven to 350F
Stir together dry ingredients
Add vanilla to water
Cream butter and sugar together
Add dry ingredients alternately with the water & vanilla
Drop from a teaspoon onto ungreased cookie sheets
Bake for 10 minutes, or until lightly browned
Makes 60 cookies
Some notes!
– I have never got 60 cookies out of this recipe, but I tend to eat a lot of the batter.
– You can replace the raisins with chocolate chips, nuts, as you see fit.
– My very wise younger sister added a dash of black pepper, which I recommend.
– Most dried coconut in the US of A is big chunks – you want something more "shredded", like these.