You Can't Go Home Again: Hush, 2000 – 2014
It turns out that you really can't: Hush, the nightclub, is closed, and I am sad to say I missed their closing party, as I no longer live in Victoria.
To say that Hush, and the people behind it, changed my life would be a massive understatement. Without Rumours, The Limit, and then Hush, the Victoria electronic music scene wouldn't exist – or would have been so different that it would have functionally not existed. If the Victoria electronic music scene didn't exist, I wouldn't have gone to my first rave in January of 2000 (hilariously, in Vancouver). If I hadn't done that, I wouldn't be here, throwing words at the internet on a website that I originally started to promote my label and my DJing.
I went to Hush for the first time in late 2000, I think, with a fake ID that said I was from Manitoba. I want to say that Sunspun was playing and that it was snowing, but I could be conflating that with another early time that I went to Hush with two friends who both used the same ID to get in.
Ah, Hush.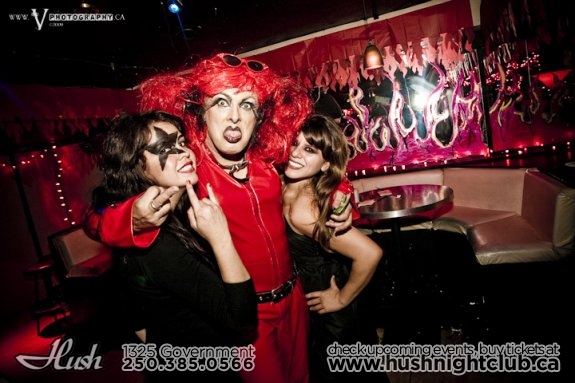 Writing the complete history of Rumours / The Limit / Hush would take at least three books, each of which would probably contradict the others in at least three ways. Let's just say that Hush opened in 2000, at the height of the late-90s 'electronica' boom, and is done in 2014, after a stupefying run of fourteen years. The rainbow flag has come down
Ten words need to be said about that rainbow flag. Hush was not a gay bar, in the traditional sense, though two of the triumverate behind it were gay. If you were gay or straight or both or not particularly sure, Hush was for you. And you could be for Hush, no matter who or what you were.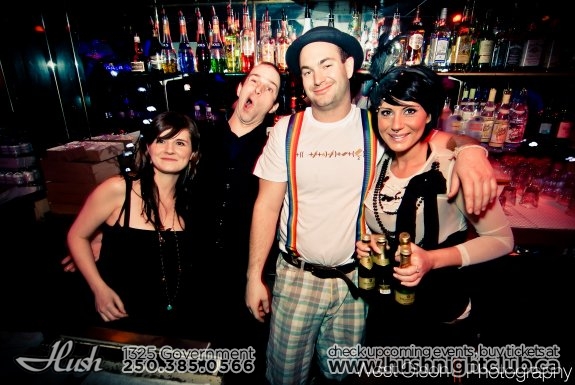 The second-last time I went to Hush was a long, long time ago: I think the winter of 2012, even. I can't remember who was playing, or if I simply went to say hello to people. People move on (or just plain move, in my case), people get old, the music changes. Things end.
But the last time I went to Hush was for the Saturday of Pride Week, 2014.  David Tilson and Princess Bruce were pulling cuts out of their collection of ridiculous eighties jams, the place was busy, if not packed, and it felt right.  I did a shot of Jaeger, as one does.  I danced, as one does.  I saw old friends, as one does.  I hugged the people that needed to be hugged, kissed a speaker, and left at quarter past one, right after Blue Monday finished.  As one does.
And, things get remembered.
Hush was where I played my best, where I saw my first drag show, where I learned how to drink, where I learned how to dance, where I prosecuted at least 75% of my friendships and at least 50% of my relationships. I am probably the only person who played a record on that stage who never had sex in the club, but I sure did kiss a lot of important people in that room.
Everyone has their club: their Paradise Garage, their Warehouse, their place where the people really were that nice, where the music really was that good and that free, and so on. Hush was and is mine. Was it really that good? No, not really. The old EV speakers would rip your ears off, the drinks could be vicious, and the less said about the bathrooms the better. I have been in clubs with better sound, with cheaper drinks, with a less broken pool table, and so on. But I've never been in a club that was more my home.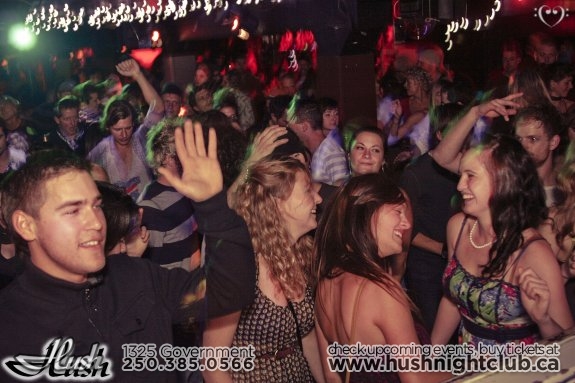 And when it was on. When Brent was feeling his oats, playing two copies of Pistolwhip; when Braeden was snapping into the breakdown of Ride; when Wes & Xavier were both in mid-air during a drop; when one of countless members of drum & bass royalty were pulling a rewind; when Deko-ze took his shirt off (we used to take bets as to the timing); when Davin and Yoseff were casting spells with records; when Matt What was screaming out the words to Fischerspooner; when Kenzie pulled out the perfect record (which was every time, of course); when Scotty or Rennie were doing some ridiculous piece of turntablism; when Hybrid, or BT, or any other world-class cat came through, and saw how a tiny city on the edge of the world could do it…
When Hush was on, it was the best club in the world. I will miss it.
---
…Some years ago, when Hush turned 10, I emailed a lot of DJs and asked for their help compiling the Top 100 Hush tracks. I got enough for a Top 50 that covered about half of the music that happened at the club.  You can find it here, with links to the music, DJ commentary, and all sorts of memories.
Likewise, I've dug through my archives and dug up a bunch of DJ sets by various Victoria legends, from the Hush years. You can find those here.